Here you will find downloadable articles, curricula, essays, and videos on inclusion, divided into sections.
Note: All submitted Word documents or PDFs must be accompanied by written permission from the copyright owner in order to be considered. Website links do not need this permission.
Would You Like to Host a Screening of Including Samuel?
The Including Samuel - Screening and Outreach Kit is available online. The kit includes a 3-minute video clip, discussion questions, sample posters, sample invitations, and more.
Material may ONLY be used for publicizing and/or
hosting a screening of Including Samuel.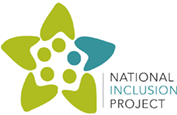 This "Resources for Inclusion" section is supported in part by a grant from the National Inclusion Project, which serves to bridge the gap that exists between young people with disabilities and the world around them. The National Inclusion Project supports communities with inclusive programs to create awareness about the possibilities that inclusion can bring. For more information, visit inclusionproject.org.