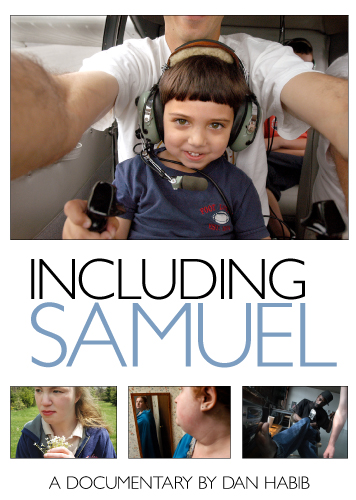 Before his son Samuel was diagnosed with cerebral palsy, photojournalist Dan Habib rarely thought about the inclusion of people with disabilities. Now he thinks about inclusion every day. Shot and produced over four years, Habib's award-winning documentary film, Including Samuel, chronicles the Habib family's efforts to include Samuel in every facet of their lives. The film honestly portrays his family's hopes and struggles, as well as the experiences of four other individuals with disabilities and their families. Including Samuel is a highly personal, passionately photographed film that captures the cultural and systemic barriers to inclusion.
The film has been screened at universities, national conferences, public television stations, and independent theaters across the country. Including Samuel has also been featured on NPR's "All Things Considered," "Good Morning America," as well as in the Washington Post and the Boston Globe. The film won the Positive Images in Media award from TASH, an international group committed to the full inclusion of people with disabilities. It has also screened at the Sprout Film Festival at the Metropolitan Museum of Art, the Boston International Film Festival, the Ft. Lauderdale International Film Festival, the Moscow International Disability Film Festival, and won the "Excellence Award" from Superfest International Film Festival in Berkeley, CA.
Mercy Corps, an international global aide agency, translated the film into Arabic and has screened it throughout Iraq to support that country's nascent disability rights movement. The film was re-released on DVD in October, 2009, with audio description, extras and translations in multiple languages.
The Including Samuel Project is a program of the Institute on Disability at the University of New Hampshire, a non-profit 501(c)3 organization. Donations to The Including Samuel Project will help build more inclusive schools and communities through curriculum, training, and outreach. All donations are tax deductible.
Including Samuel was edited by Rikk Desgres of Pinehurst Pictures and Sound.